The year was 1942. From the nook of a provincial town in Kedah, the journey of an unassuming pursuit began.
Mr. Ang Thong Guan, an ambitious, dedicated young man, started selling tea in his beat-up bicycle in a small town called Sungai Lalang.
Upon seeing his business grow, he bought the company's first Chevrolet van.
In 1945, his sons Dato' Ang Toon Cheng and Dato' Ang Toon Piah joined him in this little family business.
Together, they expanded the tea business to the Northern Region of Peninsular, Malaysia.
Within three years, the company gradually grew and developed a marketing network with a fleet of vans that distribute beverages and consumer products to grocery and coffee shops, food outlets and general traders.
By the 60s, the company diversified their offerings by entering the plastic industry.
It was the start of a journey towards becoming one of the largest plastic packaging manufacturers in Malaysia and the fastest growing companies in Asia Pacific.
The company ventured into the manufacturing of plastic products like raffia strings and drinking straws, and later expanded the product range to include plastic ropes, plastic bags and sheets, paper serviettes and cologne paper towels.
Making A Difference With Strategy​
Since the fledgeling enterprise of plastic packaging, Thong Guan started TG Flexible, a flexible packaging division in 1972. 
From then onwards, TG Flexible ventured into making all types of flexible plastic packaging and services for both industrial and consumer use.
In 1997, Dato' Ang Poon Chuan was elected as the Managing Director of Thong Guan Industries.
Under his helm, the company ventured into stretch film production for industrial pallet packaging and unitization.
TG Stretch was a strategic move as more multinational corporations were established in Sungai Petani, Kedah after 1997.
Thong Guan played a pivotal role during the industrialisation of Malaysia.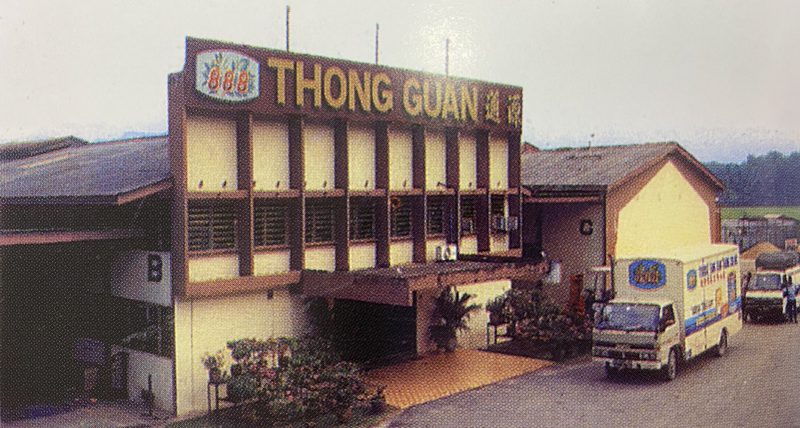 As the years when by, the business grew tremendously well. It was also in the same year that the company got listed on the Kuala Lumpur Stock Exchange (KLSE).
In 2010, we merged the manufacturing plants of both TG Flexible and TG Stretch for more sustainable production and management where administrative costs and production waste were greatly reduced.
The team has, over the years, worked relentlessly towards bringing quality plastic produce and value-added services to our customers. 
We also continuously employ industrial best practices and strict quality control processes. To date, the company has been awarded various certifications like ISO 9001, ISO 14001 & ISO 45001 and many others.
Innovative Solutions: The Convergence Of Experience, Knowledge & Innovations
In 2016, the team decided to further develop their acquired expertise and knowledge in the stretch film industry to help their customers.
Hence, a research centre equipped with state-of-the-art equipment for simulated testing was established.
The research and development centre focuses on providing simulated testing, consultation, and services in cost-effective pallet packaging and unitization.
Through the analysis, the centre also designs and develops the best packaging solution for your products from primary to tertiary packaging.
Thong Guan will progressively and steadily work towards building an enduring business through strong partnerships and innovation.
1942
Began as a trading company in packaging & distributing tea under its flagship "888" brand (RM50 capital)
1960s
Ventured into the manufacturing of coffee powder, plastic string and drinking straws.
1970s
Diversification spree to manufacture plastic bags, ropes, cologne paper towels, serviettes, etc.
1980s
Concentrated on the production of industrial plastic bags by upgrading machinery and processes focusing on quality to serve multinational and local factories in Northern Peninsular Malaysia.

Expanded trading and manufacturing operations to Kota Kinabalu, Sabah with the opening of the market in East Malaysia.
1993
First container of goods was delivered to Japan.
1995
Set up an export-oriented factory producing carrier bags and garbage bags.
1997
Listed on the Second Board of Kuala Lumpur Stock Exchange (KLSE). Ventured into the manufacturing of stretch film.
2000
Became the largest producer of pallet stretch film in Southeast Asia with a yearly production capacity of 25,000 MT after the commissioning of third and fourth stretch film lines.
2002
Transferred to the Main Board of the KLSE. Started manufacturing operations on a 7.4-acre site in Suzhou, China.
2003
Set up a 30% owned JV plant in Bangkok. Became the largest producer of pallet stretch film in Asia Pacific.
2005
Started construction on the second stretch film factory in China on a 16.3-acre site.
2006
Became the largest exporter of garbage bags to Japan, commanding approximately 10% of the market.
2007
Acquired 2.5 hectares land in VSIP Industrial Estate, Ho Chi Minh City, Vietnam.
2009
Ventured into the production of master batch compounding.
2010
Ventured into PVC food wrap manufacturing with 2 lines from Korea.
2011
Acquired the assets of Shuang Heng Plastic Industries S/B through TGSH Plastic Industries S/B.
2014
Completion of issuance of RM52 million nominal value of 5 years 5% ICUS with free warrants.
2015
Acquired Everprosper Food Industries Sdn. Bhd. to venture into organic noodle manufacturing.
2016
Commissioned first 33-layer nano technology line in Asia Pacific.

Commissioned 5-layers blown film line to produce film for automatic packaging machine, lamination film, and stretch hood.

Commissioned the first continuous noodle-making line in new factory in Sungai Petani.
2017
Completion and launching of Newton Research & Development Centre.

Set up representation office in Europe to expand the European market share.
2018
Expand our production capacity to 100,000 tonnes per year with the new machines producing Nano Series products to better serve the market needs.
2019
Diversify flexible packaging divisions by adding courier bags and ecommerce bags in line with global demand.
2020
Add additional machines for Nano Series to increase our production capacity to 110,000 tonnes per year.