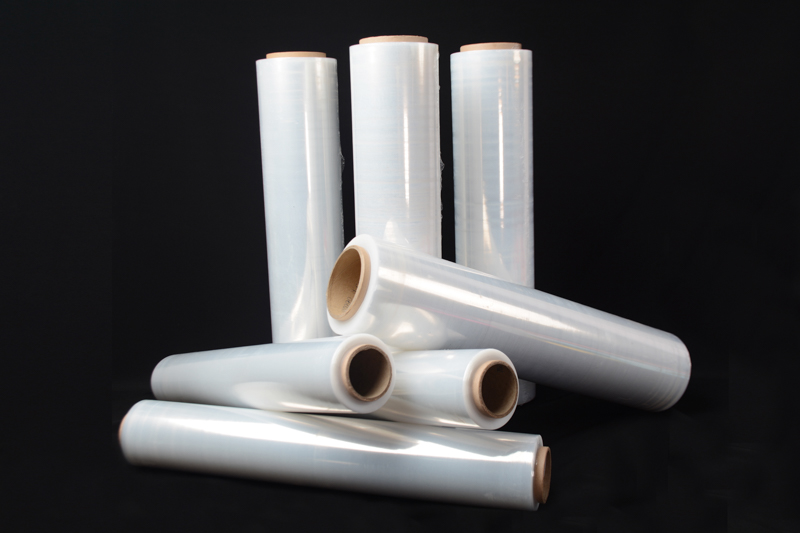 Using stretch film or stretch wrap is one of the safest, most efficient manners of moving pallets of products.
Why?
Because stretch wrap maintains the product right where you left it, no matter how you transport it.
As you may already know, stretch wrap comes in many sizes, styles and thickness, and is not easy to determine which one to use for your products.
It is a good idea to ask the stretch film manufacturer which one to use.
Some of the benefits of using stretch wrap are:
It keeps items intact during storage and transportation
Provides a smooth surface to secure important information, such as, labels, instructions, product information, etc.
As mentioned before, high performance stretch wrap film is available in many sizes.
Smaller diameter rolls are great for small packages with low volume establishments. They measure between 2" and 5" in width. This type of stretch wrap is usually used with just one hand.
High Performance stretch wrap film that rolls with widths ranging between 12" to 18" are often dispensed by hand. These widths are for short loads, or for loads which only the top or the bottom need to be wrapped.
Larger stretch film rolls, 20" wide, are designed for use by pallet wrapping machines. This type of stretch films are more efficient wrapping and can reduce waste.
Stretch film also has different thickness of the plastic film called gauge. The typical gauges for stretch wrap range from 63 to 80.
The level of thickness determine how much the wrap can stretch without the risk of puncturing. Certainly lighter gauges are better for small, lighter loads and heavier gauges are for bigger, heavier loads.
Consider the following before buying stretch film:
30 Gauge for loads up to 800 pounds
63 Gauge for loads up to 1300 pounds
70 Gauge for loads up to 1600 pounds
80 Gauge for loads up to 2200 pounds. This thickness of stretch wrap is the most common one.


How to Choose the Right Stretch Film
There are five things to consider for choosing the right stretch film for pallets.
1. Load Size
There are three types of load size:

Type A: This type of loads are the easiest loads to wrap. They have a uniform shape and they do not have puncture points.


Type B: This type of loads are not as uniform as Type A, and they have several film puncture points. Usually each pallet contains two to three products destined to the same location. The stretch film has to be a high performance stretch wrap.


Type C: This type of loads are a nightmare, no two loads are the same. The size and shape of the load range are all over the place. They have several puncture points and there is a difference between the load and the pallet size. The stretch film selection is very important.
2. Equipment
To determine which type of stretch film to use you need to consider the type of equipment you are using.
For example, you require a high performance stretch film if you are using fully automatic high speed stretch wrapper machine.
3. Product
To select which stretch film type, gauge and the number of wraps you need, you have to determine the type of products you are wrapping. Consider the weight of the pallet load.
4. Special Needs
You need to ask the client if they need a special requirement, such as a one side cling or UV colored stretch wrap.
A one side cling is usually used when the pallet load shift in transit. And UV stretch film is used if the products will be store outside for long periods.
5. Shipping
Finally, you need to consider the distance and method of shipment. It is not the same to transfer products across the country compared to across the street — you will require a different stretch film. The distance and method of shipment are important considerations.
So here you go, the five main considerations for choosing the right stretch film for pallet.
If you have any comment, or require further information, regarding stretch film, feel free to contact our friendly sales team.