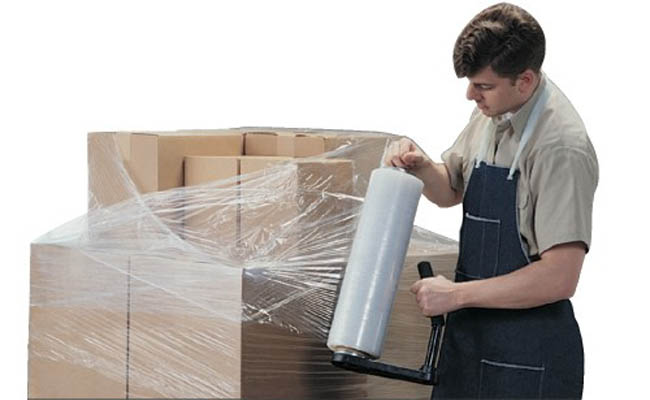 Stretch wrapping is mostly associated with covering products for deliveries and in warehouses. It is mainly used by factories and product manufacturers to keep products safe and securely packaged. However, stretch films have a myriad of applications.
Some of the surprising uses for stretch wraps are:


1. Keeping fruit and vegetables fresh
Stretch films can be wrapped around fruit, especially bananas, to keep them fresh for an extended period and stop them from rapid ripening. Some vegetables can also be stretch wrapped to keep them fresh for a more extended period.


2. Keep paint fresh
Stretch wraps can be used on the top of paint as an extra layer of protection. Before closing the paint can with a lid, put some stretch film around the top to ensure that air cannot enter the paint and the paint remains fresh.


3. Exam Papers
Stretch wraps are one of the most common ways of securing exam papers. It ensures that all of the papers are securely transferred to the exam centres, and the bundle is not opened, hence preventing any possible leaks.


4. Bicycles
Stretch films are used around bicycles all around the world, including in Malaysia. Pedals and handlebars are often covered with stretch wraps while moving them or at bicycle shops. This is to avoid any damages like scratching and scuffing on the bicycle.


5. Money
Stretch films provide extra protection for a large sum of money being transferred to a bank, storage facility or a minting facility. It is much easier to keep the money secured in one place with the help of stretch wraps.
It also provides a high-security level to the currency notes because stretch films have tamper-evident properties and are waterproof. Sensitive products such as scratch cards, lottery tickets and giveaway cards are often wrapped with stretch films in Malaysia.


6. Avert Ice Cream Frosting
Covering your ice cream with stretch wrap before closing it with a lid and putting it in the freezer helps prevent it from the freezer frost.


7. Safeguard your products in a suitcase
If you want to put some liquid bottles in your suitcase, there is always a risk of spilling into your things and damaging it. Tightly wrap the stretch film over the liquid bottle to make sure it does not leak.


8. Cover Windows
Cold air can enter your house from the small gaps in windows and doors, disturbing the whole environment of the house. You can prevent this by using stretch wraps to cover the windows and prevent cool air from entering, especially during cold nights.


9. Keep Rollers and Brushes Moist
Wet paint brushes, rollers, and other equipment that can be damaged by the air can be protected with stretch wraps. As a result, the brushes will not dry and can be used again without washing them.


10. Easy Cleaning of Refrigerator
Cleaning a refrigerator can be an exhausting task. To reduce the fridge cleaning time, place the stretch wraps in the fridge over the shelves. Whenever you want to clean it, just replace it.


11. Protect the Moist Soil
Pots should be covered with stretch wraps to protect the moist soil. Covered soil will result in a softer surface, which promotes the growth of the seeds.


12. Protect Delicate Items
Like many other countries, stretch films are used in Malaysia to protect the delicate items while moving from different places, such as from the warehouse to delivery points.
Other than the obvious protection, stretch wraps also keep the fragile and sharp items in one place, for example, crockeries like knives, spoons, and forks.


13. Protect Keyboard
Stretch wraps can protect the computer keyboards from dirt and dust particles. Many people also habitually place eatables and fluids around the keyboard, which can accidentally spill on it. Stretch wraps can minimize the damage and protect the keyboards from accidental spills.


14. Patterns on the Wall
If you want a stylish random pattern on a wall, you can use a stretch wrap to create it. Place a stretch wrap on the wet painted wall and create different designs with the wrap. The plastic wrap will thin out the paint and leave different patterns on the wall which give a very modern chic vibe.


15. Marble Effects on Nails
Similarly, if you want a cost-efficient marble effect on your nails, you can use stretch wraps. Did you know that if you use stretch wrap to dab over the wet nail polish, it will result in a unique marble effect? Just make sure to apply the topcoat to preserve the design on your nails.


In a Nutshell
Stretch wrapping is a highly versatile method of packaging that can be utilized in wrapping almost any product in any style.
When it comes to stretch wrapping, the only limit is your imagination because it has applications in practically every sector.
Are you looking for a stretch wrap or stretch film manufacturer in Malaysia? For more information, feel free to get in touch with us.