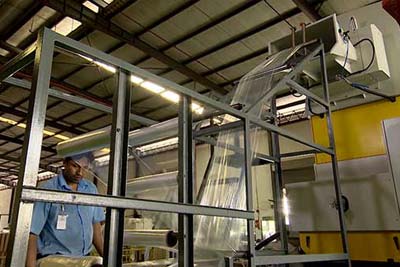 If you want to improve the attractiveness of your product packaging and promote your brand through stylish packing, you should use printed stretch films or stretch wraps in the packaging process. Stretch films are essential in strengthening the packaging.
You can get a catchy tagline and the logo of your brand printed on the stretch films through stretch film manufacturers in Malaysia, such as Thong Guan. Once you have decided on a captivating logo for your organization, you should start the process of getting printed stretch films for your product packaging.
What is Printed Stretch Wrap Packaging?
Printed stretch wrap is similar to the ordinary heat shrink films. It has the same qualities, properties, and functions. The only difference is that printed stretch films have pre-printed customized logos and designs for marketing and branding reasons.
Types of Films on which Digital Printing Can be Performed
Different stretch film manufacturers in Malaysia deals with various types of stretch films. Generally, you can find suppliers for all types of printed stretch films. Some of the common types of the stretch wrap are single-wound, polyolefin, perforated and non-perforated. Ink printing is often combined with digital printing on the stretch films to achieve maximum results.
It is imperative that you select an appropriate size and thickness of the stretch films to make sure the quality, flexibility, and strength of the wraps are not compromised during the printing process.
Pros of Printed Stretch Films
1. Superior Shelf Appeal
Undoubtedly, printed stretch films have a superior shelf appeal. Lively colours and unique designs with the help of strong images and visuals on the stretch films can attract people's attention immediately. Moreover, it is better than a non-printed stretch film because it has better visibility.
2. Greater Visibility
The quality of the printing on stretch films should be maximum to make sure that your design can stay on the stretch films for a very long period of time.
Some of the stretch film manufacturers in Malaysia may offer you some warranty period for complete satisfaction. Durable and conspicuous designing of the stretch film will make your brand stand out in the crowd.
3. Attract Potential Customers
There is a psychological explanation behind the effectiveness of printed stretch films. It is common knowledge that people are attracted to things with bold colours and unique styles. Even if they do not like such vibrant designs, they are bound to look at such products at least once.
If your products packed firmly and printed stretch wrap is used to strengthen the packing, you will be able to attract many people to your brand. If your product is placed next to a product without any printed films, your product will attract the potential customer.
Other than the above significant benefits of printed stretch films, the following are some general pros.
Lightweight and waste reduction
Upholds graphic integrity
Easy printing on all sides
Quick marketing and branding of your company
Cons of Printed Stretch Films
While there is a great number of advantages to printed stretch films, there are a few disadvantages as well.
1. Costlier
Printed stretch films are more expensive than simple stretch wraps. Many product manufacturers might not be able to afford them, especially if they have just started their business. It is considered a premium product in the market.
2. Quantity
Depending on the scale of your company, you might need to order printed stretch films in a large quantity. As a result, larger orders can lead to great expenses for different companies and product manufacturers.
However, it should be noted that printed films minimize the cost of labels. You might utilize some of the saved money for printed stretch films for better branding.
3. Recycling Issues
There are some problems associated with the recycling of printed stretch films. Although it is recyclable, many countries and cities lack the facilities for recycling the printed stretch wraps properly, which can lead to an unsustainable environment.
Many recycling companies often reject such films from recycling due to the presence of logos or text on it.
The Bottom Line
Considering the pros and cons of printed stretch films, we can conclude that these modern printed stretch wraps are suitable for large companies and enterprises that are used to packaging hundreds of products and serving many customers on a daily basis.
Although small manufacturers can face difficulty in terms of costing and the recycling process of the printed stretch films, many still reckon that it's worth the money as printed stretch films can greatly boost a company's image and branding effects.
For more information, feel free to get in touch with us.