There is a lack of visibility in the packaging industry. 
This means brand owners and packaging businesses are not tracing or tracking many vital variables necessary for operational excellence. 
Some of which includes
Downtime caused by film breaks

Inefficiency in your multisite factories

Film usage

Stretch percentage

And more
Additionally, the purchasing department continues to buy the cheapest film. 
While the production manager screams whenever the production lines go offline due to film breaks.
And the cycle goes on.
Excellent operations require business owners or packaging businesses to look at their entire system holistically. 
This means from the beginning of the entire operation to the end matters.

We understand the pain of not having visibility over your entire operations.
Questions like the following often materialised without answers.
Why is one site doing better than the other?

Why does this particular line always go offline?

Why do we have high unsaleable goods?

How do we reduce unsaleable goods?

Which film is the best for what I need?

What are my stretch film requirements?

How to ensure the most optimum usage of my films?
And when there is a possible answer, the investment in existing solutions may not justify the yield.
A Data-Centric Ecosystem Designed with Holistic Solutions in Mind
That is why Thong Guan, in partnership with Newton Europe, came up with iPak5.
It's a simple solution that brings impact to your business at an affordable price.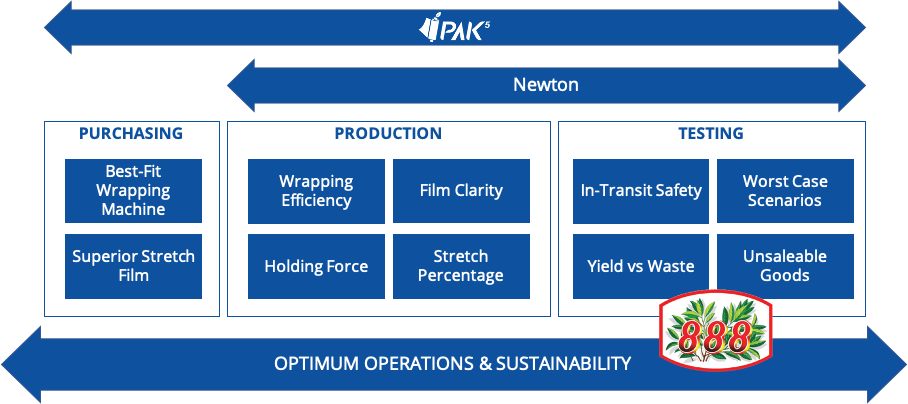 By seamlessly connecting your wrappers with our IoT solution developed in-house, you will now have an eagle eye view of your entire operations.
From the machine rolls to the wrapper, despite shift changes with different operators, you will retain consistency while tracking productivity and performance.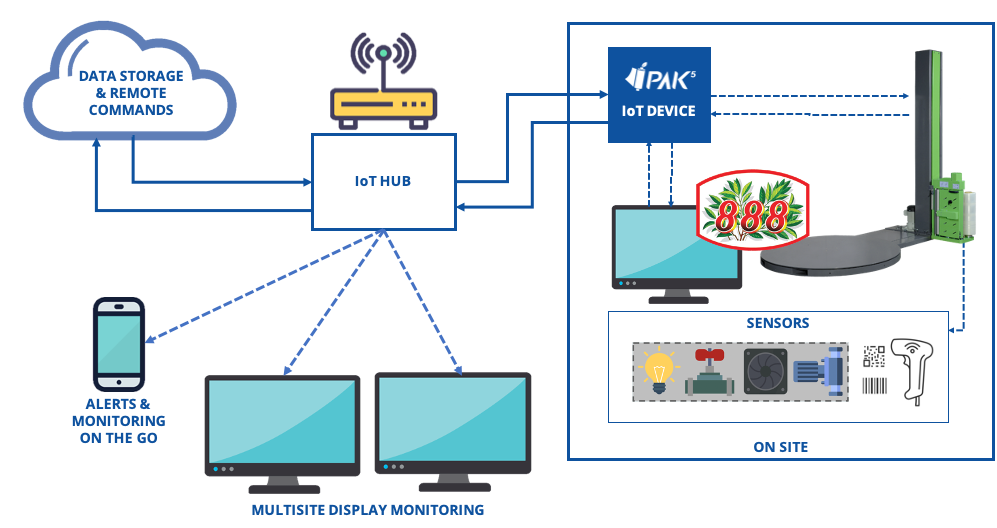 We will capture and analyse your operational data for valuable insights. 
So, as brand owners, you will not just know what is going on in your factories worldwide but make necessary business decisions to optimise your bottom line. 
Some of the insights and benefits you will gain are
Total films consumed

Alerts on downtime

Multisite monitoring

Stretch percentage

Estimated CO2 savings 

And more
The Implication of Optimum Operations
1. Performance visibility & traceability
Manual tracking of your entire operations at multiple sites around the world can be a pain.
But running a top-notch system that comes with a high price tag is not feasible in the long run.
Therefore, with iPak5, you can access the necessary data anywhere and anytime at a flexible, affordable price.
This also means speed to action when there are issues is attainable.
2. Reduction of product damages on arrival
Reducing unsaleables is a genuine problem every business owner is trying to achieve. 
But that usually comes with a high price tag.
Therefore, it is now possible with wrapping optimization using data at an affordable price.
So you can have peace of mind and a better bottom line in regards to product damages on arrival.
3. Safety improvements along the supply chain
Knowing the best-fit films, the optimum wrapping force, and film usage, your loads will get the most secured wrapping for transportation. 
This means no more unnecessary predicaments that lead to road safety or human safety issues.
4. Productivity boosting
With data, you could quickly and easily pinpoint the source of problems and act on them. 
This means less downtime.
With less downtime and more optimised operations, you can increase the productivity of your assembly line. 
That, in turn, impacts the entire supply chain and logistics.
5. Cost reductions in the long run
At an affordable price to integrate the modular-based iPak5 into your system, you can quickly turn all your wrapping machines into a network of data-centric equipment that comes with a smart feedback loop. 
Turning cost reduction plant-wide or multisite-wide possible, iPak5 helps you reduce film usage, unsaleables, and downtimes. 
These are all significant factors that contribute to costs incrementing and overrun resources.
6. Sustainability
Through optimum film stretch percentage that couples with data-driven test results from the Newton Lab, you will easily reduce the need for unnecessary wrapping.
With the estimation of carbon dioxide savings, you can easily collect the data for your sustainability goals report.
Branding wise, it's a plus point to walk to talk with real data in terms of sustainability goals. 
As such, you are increasing your brand score among your customers.
7. Modularity & Portability
iPak5 can work with almost 99% of wrapping machines in the market. 
So you don't have to obsolete all your wrapping machines to get started.
The barrier to entry towards operational excellence becomes so much attainable for you.
The Future Potential of iPak5 to Your Benefits
With the iPak5 ecosystem in place, there are endless possibilities for further optimisation of your operations. Which, in turn, will lead to an improved bottom line.
Some of which may include
Smart inventory management based on film usage that reduces warehouse costing

Optimisation of best-fit film based on past data and simulation test data through the Newton Lab top-notch facility that gives the best value for your investment

The fast expansion of production line by duplicating successes

Smart distribution centres and packaging logistics system
The possibilities are endless.
In Summary
To optimise your operations and achieve your sustainability goals, you will need big data. 
However, solutions should not be unattainable or overly costly.  
That is why we all need simple yet impactful solutions. 
This may not be achievable until now.
With iPak5, you can have an eagle-eye view of your entire operations that boosts your operational excellence and help you many steps closer to your sustainability goals.
For more information or to get started, contact info@thongguan.com.