As manufacturers and logistic businesses, we know that you need your stretch film to be superior to transport your goods safely, securely, and that customers receive their loads in the condition as promised.
However, the call towards environmental sustainability has always been beckoning.
The negative impacts of plastic waste are now a global issue that no one can ignore no more.
But how do you go about delivering the best for your customers while achieving your suitability goals at the same time?
Going Coreless: Efficient and Sustainable
You can optimise cost and move closer to your sustainable goals to do away with paper cores that usually come with conventional stretch films.
You go coreless.
It works just as efficiently and has the same strength as any industrial stretch film.
But what is coreless?
Coreless is built with a specially-designed piece of equipment that allows stretch films to be rolled under tightly controlled tension on a patented mandrel.
This mandrel will be stimulated for the winding process. Then, disengaged once the winding is completed, producing a perfectly wound roll of stretch film without the usual cardboard core is commonly used in the process.
The savings made from eliminating cardboard waste and from the residual film leftover on throwaway cores could easily range between 10 to 15 percent of the produce.
With the reduction, this technology helps us reduce the unnecessary cutting of trees to produce paper cores.
Check out this video on going coreless.
Benefits of Going Coreless
So what are the benefits of going coreless for you?
1. It is cost-effective.
Going coreless means, you are paying for 100% usable material and not waste. You also save on core purchasing and inventory, shipping additional core weight, disposing of cores, and cost of time, effort, and environmental issues. Cost savings of 20% to 30% is not uncommon amongst adopters.
2. It is light and gives you more manageability.
Your wrapping sessions become more efficient with the best performance during the wrap processes.
3. No more hassles of disposing of cores.
Do not worry about disposing of them; there is no need to. When using coreless stretch film, you have zero disposal. This is a significant point for sustainability. You will save on the cost and hassles of disposing of the paper cores.
4. Eliminating at least 57 kg of paper cores per pallet.
In estimation, you can pack about 240 rolls on a pallet. Per roll is about 0.24 kg. So per pallet of wrapping,  you will eliminate 57.6 kg of paper cores. Imagine 10 pallet loads per day in a week. The use of coreless stretch film can easily justify your sustainability goals.
5. One step closer to your sustainable goals.
As we progress in industry 4.0, many businesses contribute to sustainability per the United Nations Sustainable Development Goals (SDGs). The preservation of resources on behalf of the future becomes more attainable with technology. That is why we came up with Nano Zero.
So now, you can take a step closer to your sustainability goals with a simple decision that creates real impact.
Enter Thong Guan's Nano Zero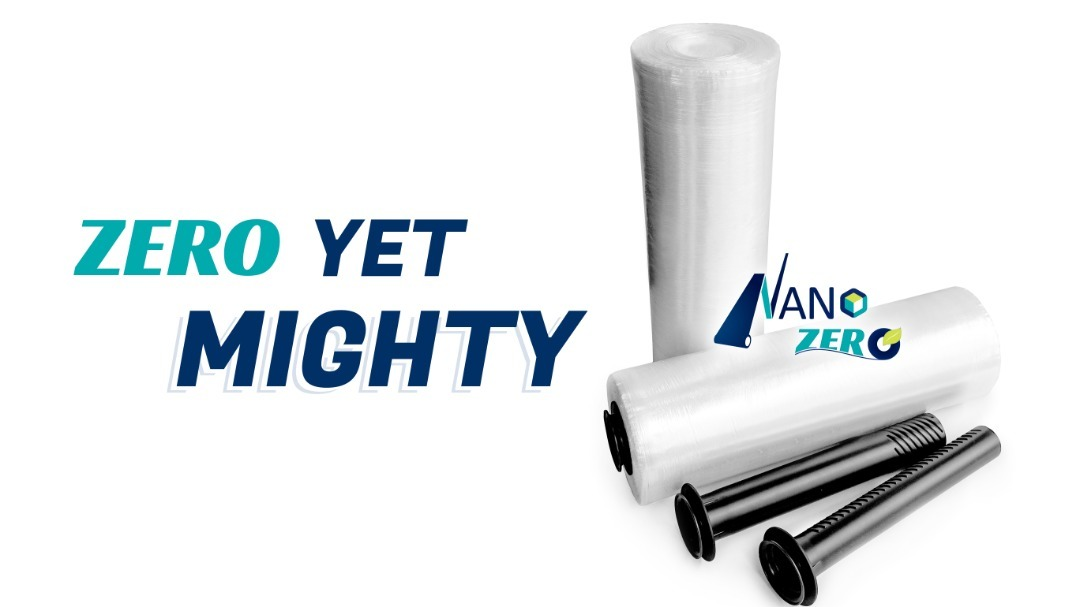 We understand that more users are eco-conscious today. And we are serious about our sustainability goals. We want to help you achieve that too. 
Nano Zero could easily be the greenest stretch film on Earth, especially if you order them bio-based.
Not only is it strong and suitable for your stretch film packaging, but a bio-based Nano Zero also takes you much faster and closer to your sustainability goals.
Here's Why Nano Zero is for You
Nano Zero Bio takes you one step closer to attaining your sustainability goals faster.

Nano Zero is thin-gauge pre-stretched, so they pose no work hazards, and your staff handles manual wrapping with ease.

It is built for toughness due to its multi-layered structure properties.

Nano Zero is a fatigue fighter. Optimised for lightness and protection, you can feel at ease delivering what you promise your customers while protecting your workers.

You can optimize your pallet coverage with maximum load holdings.

With Nano Zero, there is no more waste management cost.

It is designed to help you achieve your sustainability goals.
In conclusion, Nano Zero could easily be the simplest way for you to attain your sustainability goals while retaining benefiting from its holding force's power to protect your or your customers' goods.
Check out this video on how to use Nano Zero.
Let's Do Our Part to Reduce
As part of our RE:DUCE program that falls under our Live Green initiative, we help brand owners like you achieve sustainable goals without reducing end products' standards.
We know that you want to maximize your operational efficiency and product safety, so we got you covered.
Let's face it. The use of plastic is inevitable. However, how we deal with it matters.
Contact us at info@thongguan.com for more info or to enquire more today.57