Do you know that Thong Guan has a recycling facility that turns our plastic trash into treasure?
About 20 years ago, we knew we wanted to pursue the sustainability path. 
Closing the loop was one of the ways that we knew is not just an option but necessary. 
Though the issues have always been there, it wasn't that looming back then. And sustainability options and possibilities were not plenteous as we have today.
Eventually, incorporating sustainability into our business models has become ever more critical with the escalation of climate issues today.
Then, we know that sustainability cannot be the only focus. 
Retaining our brand promise of consistent quality performance to our clients is very important to us. 
Achieving both is a massive challenge in dealing with recycled content.
It is a delicate balance of how much recycled resins to add before compromising the properties.
After much effort in research and development and endless product testing, we realised the importance of quality waste because "garbage in, garbage out", right? 
That is why we need to have control over our plastic trash. 
We need to process our own plastic waste. 
In 2011, a plastic recycling factory opened its door under the name TGSH Plastic Industries Sdn. Bhd. (TGSH) as one of the Thong Guan Group of Companies.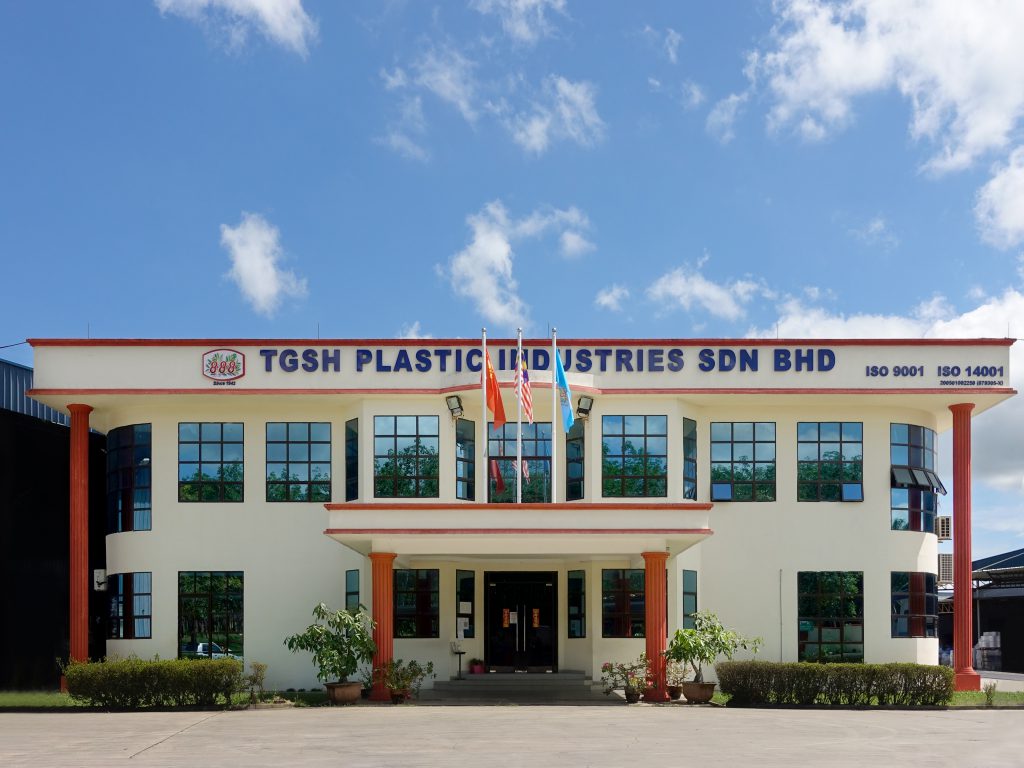 A little walk down memory lane
Thong Guan acquired a plastic bags manufacturer in 2011.
In meeting the market demands and the company's growth, increasing the production lines is necessary.
The company's rapid growth has driven the need for Thong Guan to acquire an already established factory.
Since then, TGSH has been focusing on recycling, processing and reusing in-house waste as part of Thong Guan's sustainability vision.
With more than 200 employees and an operating plant of 70,000 sq. ft. covering seven production premises, two warehouses and a double-storey office, TGSH produces more than 12,000 tonnes annually.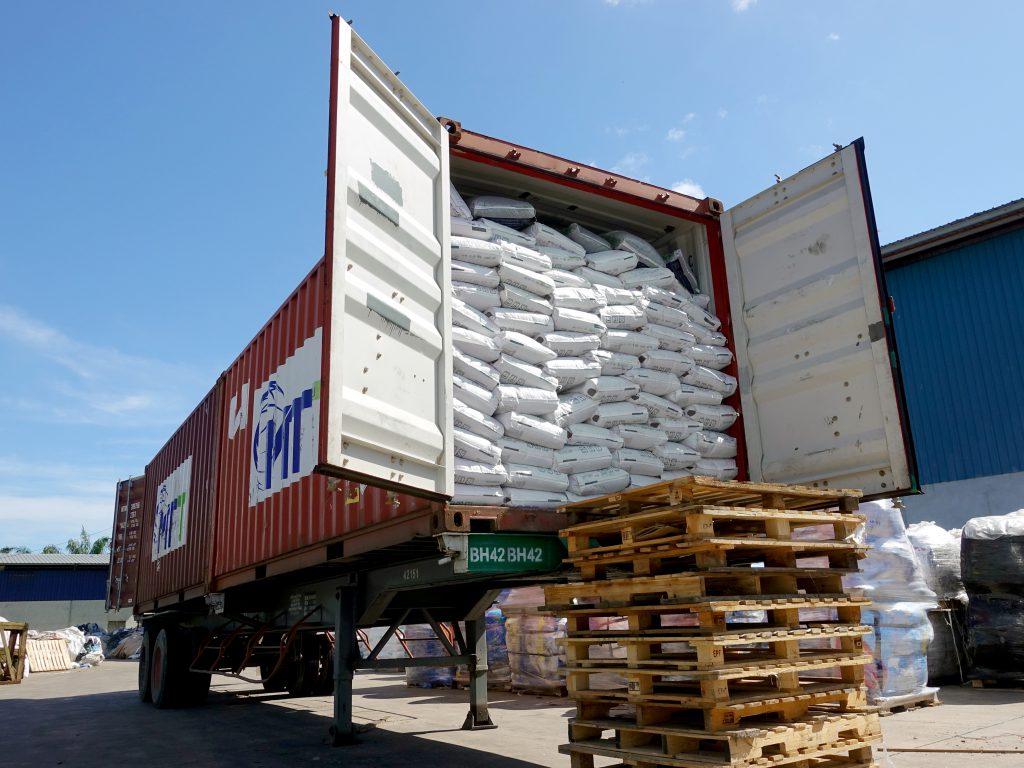 Specialising in full-service plastic bag manufacturing and flexible packaging solutions, TGSH's products span from T-shirt bags, printing bags, core/coreless bag-on-roll, individually folded garbage bags, degradable bags and recycled resins.
TGSH serves customers in broad market segments, including food packaging, industrial packaging, agricultural bags and film, building and constructions, and retail and domestic use.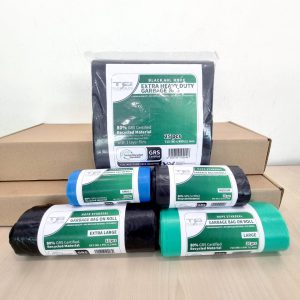 One of the most significant achievements to date is producing up to 80% recycled resins and acquiring the GRS award marking the quantifiable sustainability efforts of Thong Guan.
Yes, these products are the results of our team's relentless work in turning trash into treasure.
Achievements we can call our own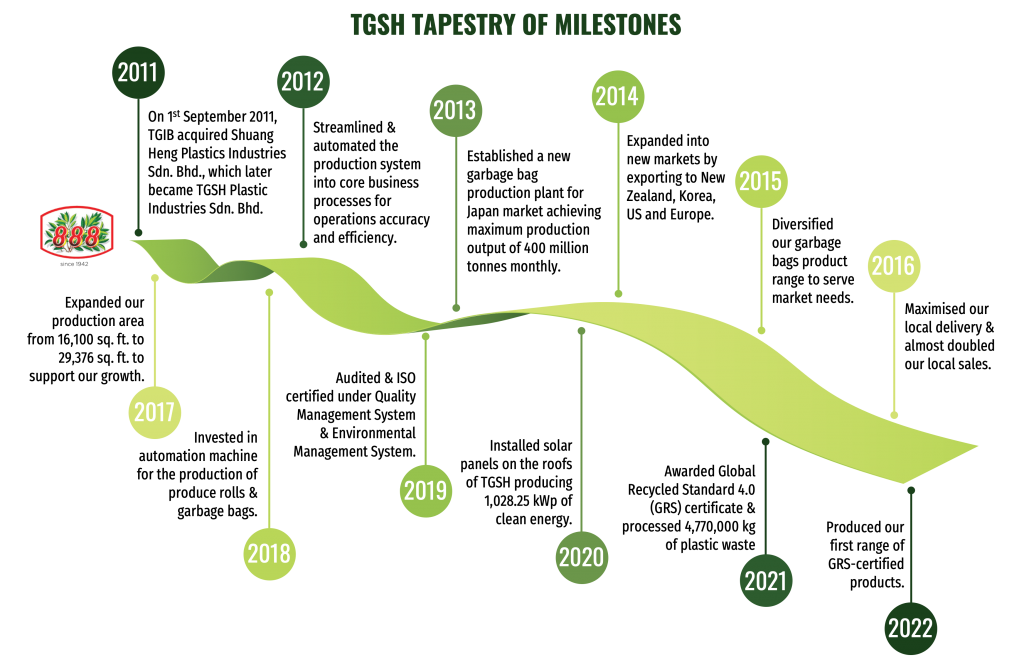 Our recycling process
Our recycling process is just the first step of our closing-the-loop effort. 
It takes much more than what we explain below, but we categorise them into the following four major steps.
Step 1: Plastic Waste Collection
Recycling typically starts with the collection of plastic waste. 
At Thong Guan Industries, our plastic wastes come from all our plants in west Malaysia. 
They arrive at TGSH to begin the journey of turning trash into treasure.
We collect post-industrial waste (PIW) primarily. 
But, we also collect post-consumer waste (PCW) to be recycled, producing PIR and PCR resins, respectively.
We have talked about the difference between PIR and PCR extensively. So you may want to check it out before continuing. 
Our PCW comes mainly from the used packaging of the raw materials that arrive in our factories.
We also collect PCW from our suppliers. These wastes consist of used PE sheets, bags, and stretch films. 
In the first quarter of 2022, we collected 140,100 kilogrammes of PCW. 
And more will come because recycling PCW matters.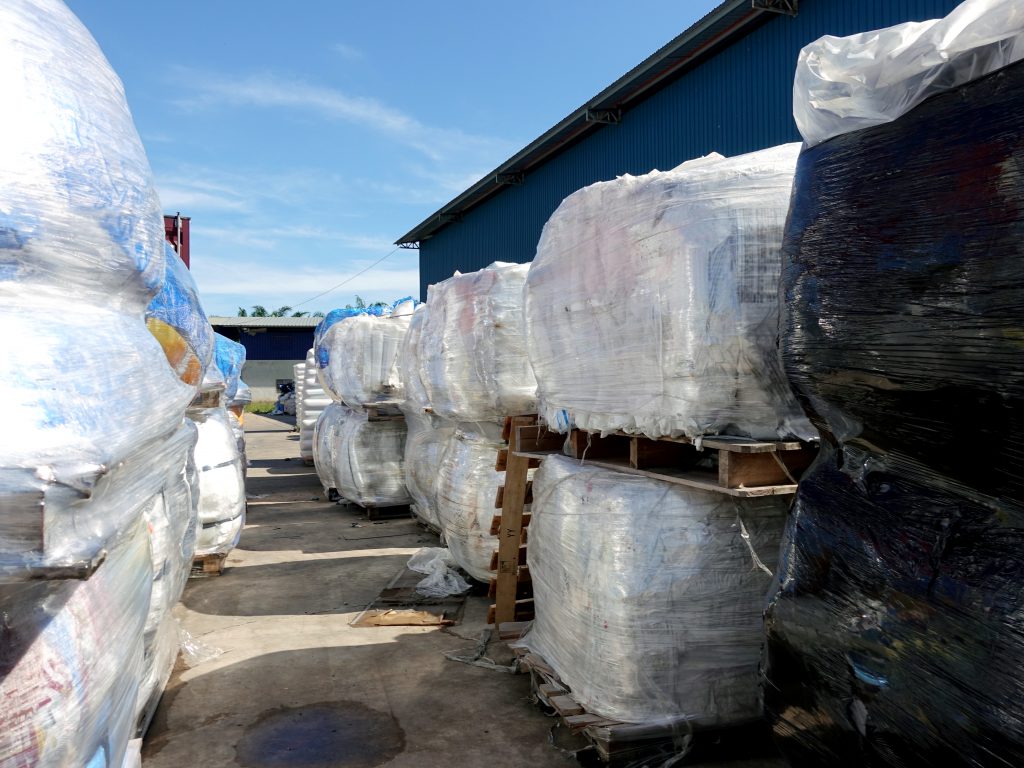 Next, used plastics arriving at our recycling facility will undergo a rigorous sorting process, where we sort them by type, colour and grade. 
As mentioned above, the quality of the waste matters because handling recycled materials in production can be challenging.
The purity of the recycled resins according to their chemical composition, melting point, and contaminants level is vital. 
It matters to the production processes and performance quality of our recycled-content products.
Step 3: Shredding & Resizing
Once we have sorted, the plastic wastes will be granulated. 
They go through a plastic shredder for a resize. We need the waste to be tiny for processing and melting for reuse. 
Sometimes, granulating the plastic wastes also helps us find any remaining impurities.
Step 4: Extruding & Compounding
The granulated plastic wastes now go through the final step of processing. 
We transform the shredded plastics into resin pellets by melting and pelletising. 
The recycled resins are now ready for mixing. 
The recycled resins are sent to different production plants to join virgin resins in our proprietary extrusion formulations, depending on their grade and purpose.
That is where we formulate the recycled resins into our recycled content products.
Sometimes, we send them for rigorous R&D processes. This is where the birth of new #LoopClosers begin.
#LoopClosers are one of our product ranges containing recycled resins, ranging from stretch films to bags. 
We will continue to research, develop, test, and release products that serve the market demands for sustainable products.
Conclusion
Since the opening of TGSH in 2011, we have stopped over 41,700 metric tonnes of plastic waste from ending up in landfills or the ocean. Not only did we stop it, we turned these plastic trash into treasure, looping them back into the production cycle.
TGSH have come a long way, yet more needs to be done to create positive impacts.
Nevertheless, small wins are better than none. 
Closing the loop is our purpose. A consistent quality performance is our goal. The drive that ties our goal and purpose together is to create positive impacts for our customers, business, and environment. 
We hope this article will inspire others in our industry to take the necessary actions for a better habitat tomorrow.
Stay tuned to our upcoming article on #LoopClosers.