Did you know that all stretch films are recyclable? Although recycling stretch film is not something new, few may know this. The general idea about plastic generally ends up as barren wastes.
In the commercial line, most F&B, product manufacturers and distribution centers know that stretch film is primarily used in packaging to secure and keep goods secure until it reaches the end consumers.
Stretch wrap is made from linear low-density polyethylene or also known as LLDPE.
Generally, we know stretch film as the material that secures the pallets of individual pallet load. Pallets stretch wrap is used by product manufacturers and distributors to bind shipping cartons to pallets that are going to warehouses or distribution centres. It is also utilized to wrap pallets that will be sent to outlets or customers.
Stretch wrap perhaps makes up a sizable part of the warehouse or distribution centre's waste stream.
By reducing stretch film from the waste stream, companies and manufacturers can decrease the volume of plastic segregation work, which saves cost and manpower hours.
Moreover, less wastage drastically reduces CO2 emissions, plastic contamination and minimizes marine (microplastics in seafood for human consumption) and land pollution by reusing plastic material repeatedly.
Additionally, it can also significantly help reduce annual trash bills too.
Driven by cost reduction initiatives, social pressure, general awareness, and supplier records tracked by mass retailers, manufacturers now have a greater motivation to reduce plastic-based packaging and move towards green packaging.
Green packaging is using renewable content in packaging materials. Renewable content denotes the use of natural and bio-based resources that can be replenished through a natural process.
Therefore, do not treat used stretch film as throw-away waste.
Can stretch film be recycled?
Here are 4 reasons why recycling stretch film is essential for your business and what you can do about it. 
1. It Is Costly to Dispose of Plastic Packaging Waste
We know that stretch wrap is easily amassed in a warehouse or distribution center's waste stream. Those that do not recycle stretch wrap waste spend a lot to have it disposed of with the rest of the trash. A large distribution warehouse or center can quickly generate a considerable amount of stretch wrap waste annually. This can be quite heavy on the bottom line.
Firstly, there is the expenditure of hauling waste to the disposal site. There is generally a fixed charge every time a trash container is collected.
Secondly, there is also the tipping charge at the disposal site.
However, disposal costs may vary depending on the region of the country you are in. Fees are calculated by per-ton and may range from USD $20 (RM85) to USD $100 (RM425) or more.
Plastic waste from stretch films is then recycled and goes back into the production line as another product in the market.
As most stretch film uses 100% virgin resins as its raw material, it allows the flexibility of reconverting and repurposing as another plastic product or as stretch film again.
This prolongs its raw material lifeline and loops it back into the system, creating a circular economy.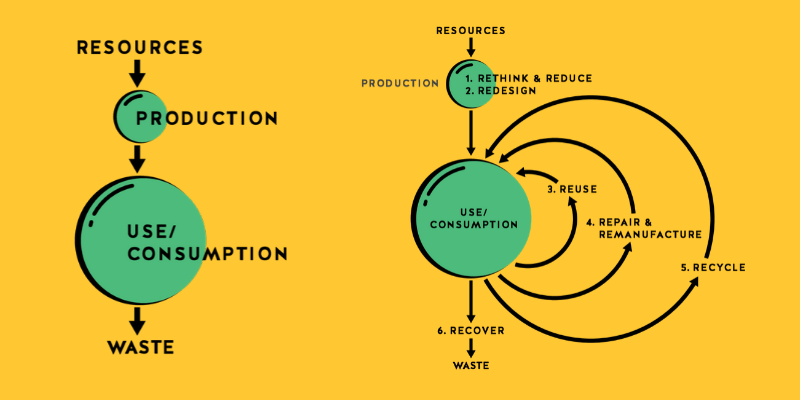 Source: U.S. Chamber of Commerce Foundation
2. Recycling Green Packaging Can Be a Revenue
Recycling stretch wrap presents an attractive alternative to disposal. Not only would it save you money, but your plastic waste could also be a revenue stream for you too.
These days, there are more ready markets that are looking for pure material. Many recycling firms are especially interested in working with businesses with clean plastic waste like stretch film to recycle these materials.
Besides that, it is also quite easy to retrieve and recover stretch wrap for recycling. When goods are delivered at the dock, the stretch film protecting it will usually be in a reasonably clean, uncontaminated state.
When kept that way, it has a good market value.
In fact, weight for weight, stretch wrap may be the most valuable scrap material a warehouse or distribution center can recover and profit from.
3. Brand Owners Will Appreciate Your Green Efforts
During the research for "New Plastics Economy," the 2014 National Postconsumer Plastic Bag & Film Recycling Report, it was shown that there is a steady increase in the rate of post-consumer film recovery in support of recycling.
This indicates the increasing level of customer recognition about the recyclability of plastic for a sustainable environment.
It is better to make the change now. Your efforts affect the brand owner's perception and shapes their purchasing decisions—leading to your bottom line.
This is the time to come together to save our Earth.
As a brand owner or primary user of stretch film, you would want to play a big part in saving the planet and sustainability too.
You would want to work with suppliers who always have green or sustainable initiatives, where recycling is highly encouraged. Brands are also looking to work with suppliers or recyclers that use post-consumer waste, recycled materials, or post-industrial waste to be reprocessed in their product.
Big brand companies that use a lot of plastic have also begun to speak out. Unilever is one of them. They confirmed that by 2025, they will halve their usage of virgin plastic, by reducing its absolute use of plastic packaging by around 100,000 tons. They will also accelerate their use of recycled plastic too.
Since brand owners are moving to suitable packaging, it is just a matter of time for distribution centers and warehouses to follow suit as well.
4. Recycling Stretch Film Waste Can Be Done In-house or Outsourced Too
To recycle used stretch film, you can also set up an internal system for your organization too. This is where you could pull stretch film waste and reprocess it back to resins that will be used to manufacture other products.
However, this may incur a lot of costs and the lengthy allocation of space, management, systems, equipment, and manpower.
Alternatively, you may look for 3rd party plastic melters but it is not a sustainable economy to ensure circularity.
Thong Guan is your one-stop recycling solution, especially when looking to recycle stretch film in Malaysia.
At Thong Guan, we offer well-rounded solutions in efforts to help you close the loop. if you buy stretch films from us, we offer a buyback of your wastes to be melted down and go back to resins. A percentage of the recycled resins will be the composite of new stretch films for you. This way, you can proudly say you are participating in the circular economy in helping to conserve our only habitat.
Thong Guan total end-to-end solution will:
Supply your stretch film needs
Help process post-usage by collecting your waste via our strategic recycler partners
Process your waste into stable recycled resins
Transform these resins to produce high quality repurposed products that will serve another lifespan in the economy. (for example, garbage bags or flexible packaging)
When you recycle your stretch film waste, you are contributing your part to developing the circular economy. You become part of closing wastage gaps so that your product can have many more rounds in the market as other products.
How Reliable Is Recycled Stretch Film?
We know that reusing recycled film waste will help save the environment and add towards building the circular economy. However, one may question its quality assurance especially since it is used to protect precious goods.
Recyclers, brand owners, and manufacturers are able to obtain proven reports from companies that are able to test their quality, durability, and compatibility. Dynamic labs such as Newton Research and Development Sdn Bhd have the right technology to test recycled stretch films.
These stretch films will go through pallet load stability and safety tests through real-life simulations to ensure its quality.
Brand owners and manufacturers would then be assured and trust their goods are handled safely when using stretch film with recycled content. How Do I Start?
How Do I Start?
If you plan to join Thong Guan in upholding the circular economy, follow these steps;
Educate employees who will oversee the program.
Establish and design a collection and processing system.
Contact a recycling company for help and to arrange pick-up.
Use a waste sorting program.
At Thong Guan, we are a manufacturer that recycles our stretch film here in Malaysia. Our goal is to achieve a circular economy where plastics are reused back as raw material that can be reproduced again. Though still a long way to go, but small steps towards our goal is better than none. All parties must work together to save our planet.
Thong Guan's mission is to strive towards closing the material loop, and we would like to invite you to work collectively with us towards this goal.
To find out more, contact us.