Thong Guan Industries Berhad, renowned for its relentless pursuit of innovation to meet the dynamic needs of the market, made a lasting impact at Interpack 2023. 
The event surpassed all expectations, with Thong Guan's mobile test truck, Load Stability On The Move, stealing the spotlight by revolutionising load stability testing and bringing it directly to customers.
According to David Ang, General Manager of Thong Guan Industries Berhad, "At Thong Guan, we constantly push boundaries and innovate to meet the ever-evolving market demands. 
Our mobile test truck, Load Stability On The Move, is a testament to our commitment to providing cutting-edge solutions. We offer customers a distinct advantage by eliminating the cumbersome process of sending their pallet loads to testing sites."
Load Stability On The Move, well received by the crowd
Interpack 2023 witnessed an enthusiastic response from attendees, solidifying the event's unequivocal success for Thong Guan. 
The mobile test truck, featuring state-of-the-art load stability testing equipment, attracted numerous visitors to Thong Guan's exhibition booth.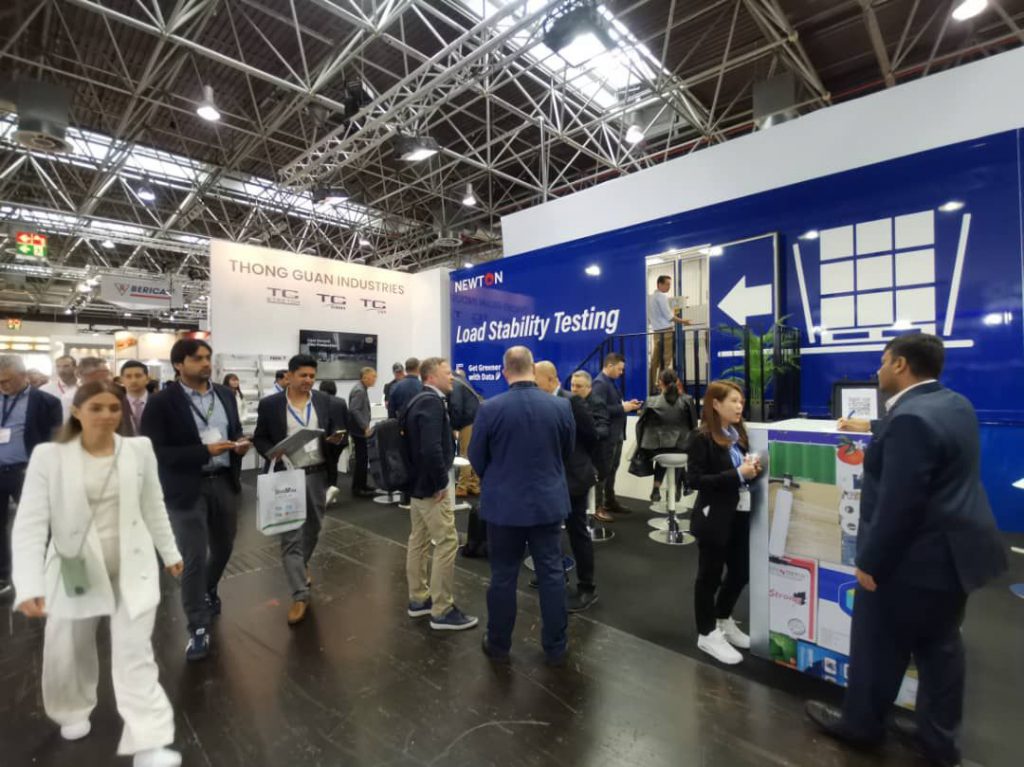 This innovative solution not only showcased their expertise in stretch film production but also highlighted their dedication to delivering comprehensive packaging solutions.
Customer feedback poured in, affirming Thong Guan's industry leadership and captivating offerings. 
Many expressed keen interest in Thong Guan's solutions, recognising the significance of their unique features, such as QR codes on film rolls and the upcoming projects in the pipeline. 
These features hold promising potential for future collaborations and mutually beneficial partnerships with companies seeking innovative packaging solutions.
Mr Fabio, Director of Europackaing SA, expressed his thoughts on Load Stability On The Move and suggested an improvement for the team. 
"Good day, everyone, I was already familiar with the stability test in motion, but I was amazed by the possibility of bringing that tester to the client and showing them how they can improve their shipments on the customer's site. The same people who prepare the orders for merchandise delivery can see it and understand how the pallet carrying our goods should be wrapped.
It enables us to ensure excellent delivery to our customers.
I would love to see a training session on-site during a test visit to educate the team responsible for dispatching the merchandise."
The event proved invaluable for Thong Guan, as it shed light on the load stability and damaged goods challenges faced by end-users.
By presenting a holistic solution through the mobile test truck, Thong Guan effectively addressed these concerns and generated heightened interest among visitors.
On the popular topic of sustainability
Sustainability emerged as a prominent topic of discussion within the packaging industry during the event. 
Thong Guan's commitment to selling solutions rather than mere film resonated with attendees, further reinforcing their reputation as providers of comprehensive packaging solutions. 
The team actively engaged in conversations surrounding green packaging and collaborative efforts to optimise packaging solutions, highlighting Thong Guan's dedication to sustainable practices.
Final words
Overall, Interpack 2023 served as a resounding triumph for Thong Guan.
The event garnered significant sales leads, received laudatory feedback from global manufacturers, and generated considerable excitement surrounding their innovative solutions. 
The increasing demand for load stability testing became evident, reaffirming Thong Guan's position as an industry leader.
Looking ahead to the next Interpack event in Düsseldorf, Germany, Thong Guan aspires to inspire fellow participants with this message: 
"Innovation and collaboration pave the way for a future of packaging excellence. Join us as we embark on a journey to reimagine the possibilities of the packaging industry."